The Christmas tree which every year in the evening on 7 december, Immaculate Conception eve, lights along the slopes of Monte Ingino, is really something special.

It is the biggest tree in the world,by now a real symbol of Gubbio.

It rises from the last stone houses of Gubbio up to the basilica of S. Ubaldo, the patron saint of the town, close to the place where, till 10 january, shines the star of Bethlehem which completes the tree.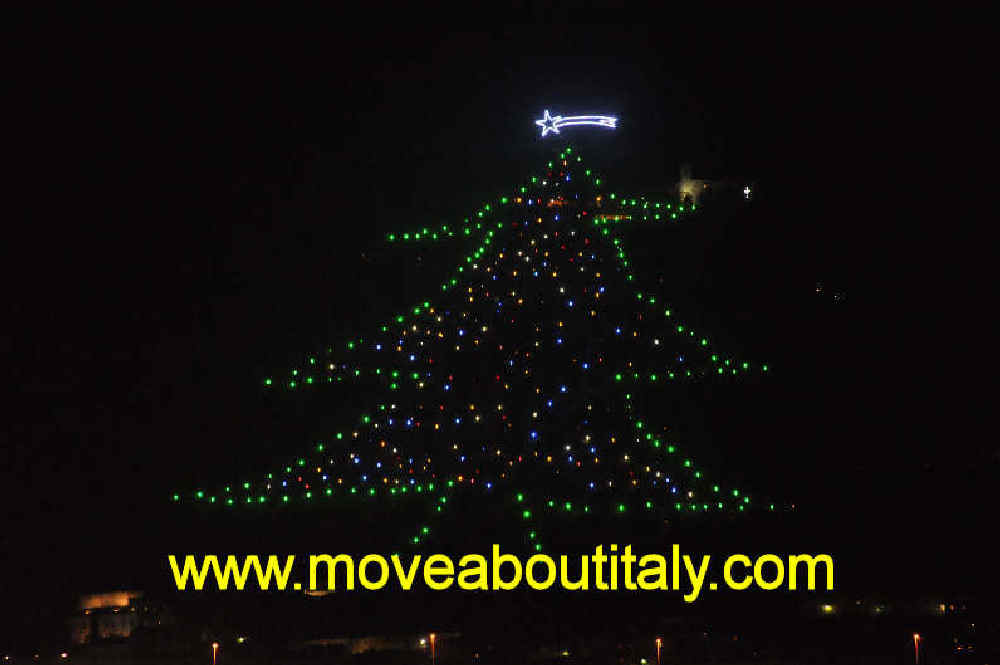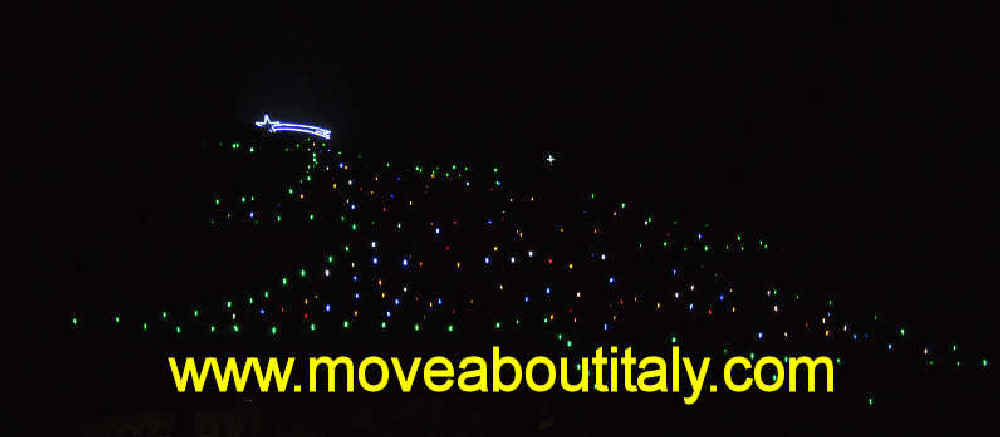 Photos done 12 december 2010

Four hundred metres of light as the crow flies (1312 feet) to announce Christmas and to get Gubbio an authentic record.

This shining shape reproducing a fir(height:800 metres,2624 feet;width:400 metres,1312 feet), appears rightly in the "Guinnes"; in fact the 1991 edition reports (page 128) that in Gubbio (Perugia) at Christmas people prepare a shining decoration in the shape of a Christmas tree made up of 500 lamps connected by 12000 metres of electric cables (40000 feet), which covers a mountainside of Monte Ingino from about 500 to 900 metres of altitude.



The tree, visible from the mounts of Umbertide and from the hills of Perugia, is designed using very bright neon lamps stained with different colours.

For example the green lamps design the shape.

This initiative started many years ago when a few people of Gubbio decided to celebrate Christmas in a different way:so they hit upon the idea to make the tree on the mount side which overlooks the town and on 7 december 1980, in the evening, after many problems the lights were shining for the first time.

Since then the cerimony repeats itself thanks to a special committee consisting of volunteers giving for free their work for about three months.



In 1990 the postal service celebrated the tenth anniversary of this initiative with a special cancellation conteining this sentence:"Tenth anniversary of the biggest Christmas tree in the world".

That cancellation became one of the most appreciated by philatelist.